Phoenix Countertop Types

Many options for your new counter tops.
Counter tops can be created from a variety of materials. Each material offering it's unique benefits and drawbacks. This chart provides a quick overview comparing the major considerations when selecting a material for your new countertops. Ratings are on a scale of 1 to 10 with 10 being the "Best" rating. Price is relative to other materials with 10 being the most expensive.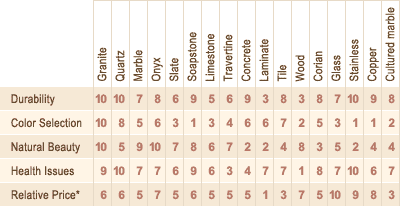 Stone
Using stone for your new countertops is a wise choice for many reasons. Each type of stone has unique characteristics, look and feel.
There are several types of stone available for countertop fabrication. All types of stone are available in "slab" material. A "slab" of stone is basically a very large, flat, thin slice of stone. Much like a slice of bread is cut from the loaf, a slab of stone is cut from large areas of earth. It then gets polished on one side. These "slabs" of stone come in various sizes and shapes, but for the most part they are rectangular and approximately 125" x 65".
Slabs also vary in thickness. Coming from all over the world they are classified into basically two thickness, 2cm (approximately ¾"), and 3cm (approximately 1 1/8"). There is a third thickness available which is classified as .7cm (approximately ¼"). This thickness is used for special wall/shower projects and is often difficult to locate in a variety of colors.
The types of stone most commonly used for countertop fabrication are natural granite, engineered/manufactured quartz, marble, onyx, travertine, limestone, slate, and semi-precious material. In determining what type of stone you will want to use for your project, you might consider hardness or durability, stain resistance, color and cost.
Natural Granite
very hard, stain resistant, and is available in well over one hundred colors. Granite is a versatile, durable stone used anywhere in the home or business.
Quartz
Engineered or manufactured quartz is very hard, very stain resistant and is available in 40 to 60 colors. Quartz surfaces are a versatile, durable type of stone which can be used anywhere in the home or business.
Marble
softer and susceptible to staining with thirty to forty colors typically available. Often used for bathrooms, fireplaces, outdoor bars and other specialty applications.
Onyx
softer and susceptible to staining. Is available in up to forty colors. Onyx is often translucent. Looks great with back lighting in baths and showers walls.
Slate
hard, brittle, medium stain resistance and is available in ten to twenty colors. Rarely used as countertop, however it is available in slab material.
Soapstone
A very dense stone that contains talc. The mineral talc contained in this stone gives it a soft appearance and Is silky soft to the touch. Soapstone scratches easily which gives the surface its own natural patina. Mineral oil is used on the surface to darken the stone as often as desired.
Limestone
Limestone is a sedimentary stone. It is a hard, brittle stone and is porous making it susceptible to staining. Is available in ten to twenty colors. Its local colors are available in shades of gray, but imported limestone is available in a variety of shades.
Travertine
softer and susceptible to staining. Is available in ten to twenty colors. Comes with a textured surface and is used mostly in bathrooms and showers.
Composites
These countertop materials are made from combinations of natural and man-made elements.
Corian
Corian is the registered trademark of one of many building materials collectively known as solid surface and is composed of acrylic polymer and alumina trihydrate made by DuPont.
Cultured Marble
Cultured marble is a mixture of fiberglass resin and crushed limestone along with coloration. Its most popular application is in the bathrooms of tract homes and apartment complexes. Cultured marble can be made into any shape or size and generally incorporates a seamless sink.
Metal
Stainless Steel
A 16-gauge stainless steel is generally used for residential countertops. Although stainless is an expensive option, countertops of almost any size can be created in stainless steel, which is a rolled metal product. It can, and should be, welded, ground, and polished. Soldered joints are not safe for food-preparation areas.
Copper
Copper is increasingly finding a place in the kitchen. While its not yet main stream, copper countertops do have appeal for those who enjoy having something unusual. Fingerprints, scratches, and browning are all a part of its natural patina.
Other Materials
Concrete
Concrete countertops open the door to many color and design choices. Concrete countertops are an option for irregular shaped countertops as they can be poured in place. This type of countertop is very labor intensive, which generally creates a little higher price tag.
Laminates
Laminate countertops are a very inexpensive solution for the do-it-yourself homeowner. Most home improvement warehouses carry laminates in stock, and generally have a variety of colors to choose from. If you are hiring a contractor to install them, of coarse it is a little more expensive, but all-in-all the most affordable countertop surface.
Tile
Tile countertops are also a very affordable alternative to stone slab countertops. A huge variety of stone types and colors are available as tiles, so matching your décor can be a breeze. Keep in mind that no matter how well the tiles are laid in a countertop application they will never be perfectly flat, possibly making glasses and etc. a little unstable. Also, grout lines will need to be sealed regularly and are susceptible to retaining microorganisms even after regular cleaning.
Wood
The look of wood countertops is very unique, and no other surface duplicates the look of natural wood. One good thing about wood countertops is that scratches are simply sanded out and resealed. The downside is that wood is soft and porous. A scratched up and dented surface is part of its patina, so perfectionists beware!
Glass
Illuminating, colored, and with textured patterns and different foils underneath, this makes for one of the most striking countertop surfaces yet! Many glass countertops are 1 ½" thick, and some are made from recycled glass which is environmentally friendly. The cost of this product is far out of reach for the average budget, but when you see them, they are hard to resist!
About Countertops